Cycle Ipswich have objected to the proposed car park by Ipswich Borough Council on Portman Road.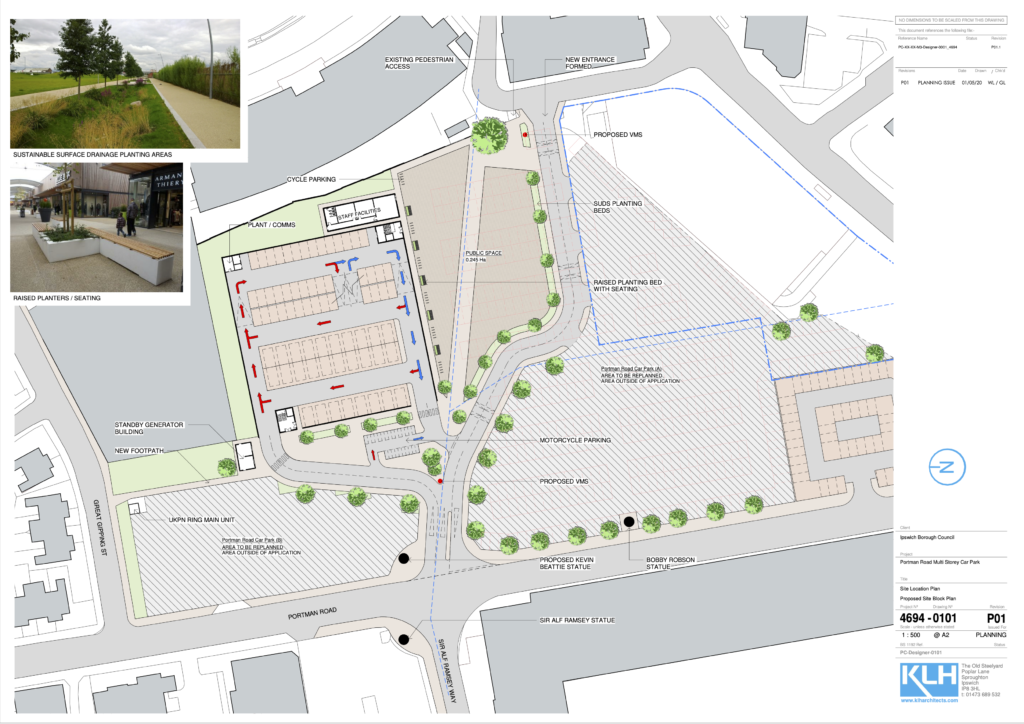 The objection sent to Ipswich Borough Council is shown below:
Cycle Ipswich are objecting to the multi storey car off Portman Road, application number 20/00398/OUTI3.
1.
Suffolk County Council are including Portman Road as a North/South route linking the railway station to the north of the town as a quiet cycle route. This is part of the emergency measures due to the current social distancing: https://www.suffolk.gov.uk/council-and-democracy/council-news/show/suffolks-plan-for-more-walking-and-cycling and also draws from the routes being proposed by the Policy Development Panel for the LCWIP.
Sir Alf Ramsey Way, Portman Road, and Great Gipping Street are part of National Cycle Route 51. The National Cycle Network is meant to be low motor traffic to enable more people to cycle safely, especially children.
Considering the above plans, having an entrance to the car park and encouraging more motor vehicle movements along Portman Road should not be allowed, as this will make the road more dangerous for walking and cycling.
2.
The details of the cycle parking don't appear to be included in the plans, and seem to be an afterthought.
3.
On match days motor vehicle movements around the stadium should be minimised by closing all nearby car parks to all vehicles except coaches, buses, blue badge holders, cyclists, and other small wheeled transport, also running shuttle buses from/to the park and ride sites. This would prevent the grid lock and increased air pollution that happens on the streets near the stadium before and after each match.
4.
Both Suffolk County Council and Ipswich Borough Council have called a climate emergency. How can building a car park and encouraging more people to drive into the town centre align with the climate emergency? How does this proposal help to tackle climate change? It's also worth noting Ipswich Local Plan (2017) Policy Summary CS1 regarding the need for sustainable development to tackle climate change.
5.
With regard to Ipswich Local Plan (2017) Policy Summary, Policy CS20 around "aims to reduce dependency on the private car by 15%", how does this planning application contribute to this?
6.
Ipswich Borough Council and Suffolk County Council have statutory obligation to have legal levels of air pollution. This will require reducing the number of motor vehicles in Ipswich town centre. The relevant guidance is the Local Air Quality Management Technical Guidance (TG16) https://laqm.defra.gov.uk/documents/LAQM-TG16-February-18-v1.pdf
7.
Cycle Ipswich recognises that motor vehicles are required for some journeys, however there is currently too much cheap car parking in Ipswich town centre. This cheap car parking is encouraging more driving, making the roads less safe for people who wish to walk and cycling. It is possible to transport young children and shopping on a bike, where larger items need to be transported car sharing or delivery services (which may be pedal powered on specially built bikes as PedalMe https://pedalme.co.uk in London have shown) are an option.
Shaun McDonald
Cycle Ipswich